4 Pics & 1 Word – Easter Lesson
As I am preparing this note, all sorts of clichés are coming to mind.  Here are just a few.
"When better is possible, good is not enough"
"Let go and let God"
"Good is the enemy of the great"
"The difference between extraordinary and ordinary is that little bit extra"
These remind us of the truth in 2 Chronicles 32:7, "there is a 'Greater Power' with us".
It is time to QUIT QUESTIONING the Greater Things He has prepared for you and  boldly move ahead into the GREATNESS of His divine plans and purposes on your life and for your ministry.
Yes, God's divine plans for your life and ministry are to demonstrate His greatness!  Remember:
It is not by might, nor by power, but by His Spirit!
Greater is He who lives in you!
Jesus said, "Ask anything in my name and I will do it!"
Speak to the mountain and BELIEVE and you will see it move!
His Spirit is at work in you to do exceeding abundantly, above and beyond, what you could even imagine asking.
He has already given you EVERYTHING you need for godliness and life!
-Pastor Gary
Here is a REMARKABLE Easter lesson that parodies one of the most popular apps our kids are playing on their iPods, iPads, & smartphones titled "What's the Word?".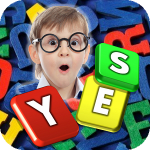 It's a spin-off of"What's the Word," a kids app with an OUTSTANDING 5 Star rating and nearly 580,000 user votes in the app store!
"What's the Word for Easter?" provides your kids with four levels of gameplay on words prior to Christ's death and resurrection.  Each of the four rounds (19 games total) culminates with a keyword and lesson point revealing God's plan of salvation!
The four points highlight:
-We cannot do anything ourselves to get rid of our sins.
– Jesus' resurrection removes the sin barrier between us and God.
– Accepting Jesus' death on the cross for us frees us from the harm of sin now and forever.
– Choose God's plan of salvation now so you can reign with God in His Kingdom for eternity!
If you have never experienced this INCREDIBLY POPULAR game app, here is what you can expect from the "What's the Word for Easter?" spin-off. Indeed it is, "Surprisingly simple, amazingly addictive, everyone's favorite new game!"
"What's the Word for Easter?" creates an intriguing atmosphere for bringing the story of Easter to life in a fresh and interactive way.