NEW Cross Your Heart Paper Fold Lesson
NEW – Cross Your Heart Paper Fold Lesson
1 Piece of folded paper
+
4 Cuts with a pair of scissors
=
A FANTASTICALLY POWERFUL LESSON
for discovering how to receive God's GREATEST gift of LOVE!
With just a few folds and a few cuts, your piece of paper will be amazingly transformed into a cross and four hearts!  This special effect paper fold so simply and so profoundly presents the marvelous plan of salvation for all ages!  Use the cross and each heart to wonderfully illustrate 5 scripture verses that brings your group to the place of accepting God's gift of love through Christ Jesus.
Check it out in the Children's Ministry Today's Marketplace!
NEW Heart of Hearts Lesson
Love is an essential part of every person's existence. God never intended any person to live life without love, especially His love! This powerful lesson uses colorful candy heart cards to explore 6 different ways God expresses His intense love to each person. Your kids can reach new heights in their relationship with God by understanding the depth of God's love for them! The illusion ends with a strong salvation message, explaining how Jesus' death of the cross is the ultimate expression of God's love, freeing them from sin's harm so they can live lives loving God and being loved by Him. It's the world's greatest love story!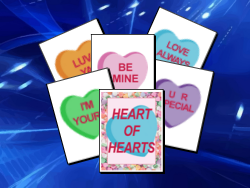 NO SKILL NEEDED for this wonderful Gospel magic object lesson!
Includes Cue Cards for easy teaching
Includes 2 sets of printable cards Jumbo and Stage size!
Heart of Hearts is Downloadable
Four Ministries We Want to Bring to Your Attention!
Through these past 15+ years online, CMT has connected children's ministry leaders with 1,000's of ministries and ministry resources.  This past fall we redesigned one of CMT's sites and launched Sites4KidsMinistry, a place where you can quickly find resources, evangelists, apps, online communities, and more to help your ministry!  S4KM has over 40 categories to explore.
These 4 ministry leaders and equippers are helping to support CMT's ever-growing online presence.  I encourage you to click over to Sites4KidsMinistry and check out:
Nooga Booga's Church Themes and Bible Murals
Friends and Heroes Animated DVD's
Jubilee Gang's Kids' Ministry
Terry TV's Online Videos and Games