There is a BETTER Way – Memo for Your Ministry from Pastor Gary
Today's Memo features an article/podcast from Pastor Gary titled "Are You Singing the Same Old Song? from GaryLinn.com
Whenever you hear someone say, "singing the same old song," it is usually not in a good context. This short piece of prose implies that a person is following a pattern of unhealthy repetition. So, let me ask you "Are you singing the same old song?" Have you developed a pattern of repetition that is unhealthy for yourself and those to whom you minister?
There is a better way to respond which is beautifully illustrated through the life of David, the man after God's own heart.
It is a wise person who seeks…  Moreover, it is a wiser person who…
You can read or listen to the rest of this memo at: GaryLinn.com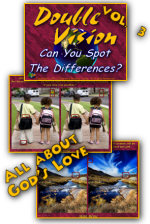 NEW Double Vision Game
Features these scriptures all about God's Love!
-Psalm 36:7
-1 John 4:7
-Romans 8:39
-Ephesians 5:1
-Psalm 136:26
-Galatians 5:14
-Psalm 52:8
-John 13:34
-Psalm 48:9
-1 Corinthians 13:2
Now Available for Download at CMT's Marketplace
Make it an Easter to Remember! – Look through these three pages of Complete Services, Gospel Magic, and Games for your Easter services and outreaches!
NEW for 2011 – Cross Your Heart Paper Fold Lesson
1 Piece of folded paper
+
4 Cuts with a pair of scissors
=
A FANTASTICALLY POWERFUL LESSON
for discovering how to receive God's GREATEST gift of LOVE!
With just a few folds and a few cuts, your piece of paper will be amazingly transformed into a cross and four hearts!  This special effect paper fold so simply and so profoundly presents the marvelous plan of salvation for all ages!  Use the cross and each heart to wonderfully illustrate 5 scripture verses that brings your group to the place of accepting God's gift of love through Christ Jesus.
Check it out in the Children's Ministry Today's Marketplace!
NEW for 2011 – Heart of Hearts Lesson
Love is an essential part of every person's existence. God never intended any person to live life without love, especially His love! This powerful lesson uses colorful candy heart cards to explore 6 different ways God expresses His intense love to each person. Your kids can reach new heights in their relationship with God by understanding the depth of God's love for them! The illusion ends with a strong salvation message, explaining how Jesus' death of the cross is the ultimate expression of God's love, freeing them from sin's harm so they can live lives loving God and being loved by Him. It's the world's greatest love story!
NO SKILL NEEDED for this wonderful Gospel magic object lesson!
Includes Cue Cards for easy teaching
Includes 2 sets of printable cards Jumbo and Stage size!