Special Weekend Sale at CMT's Marketplace
Announcing a SPECIAL WEEKEND Sale at CMT's Marketplace!
Now through Monday, March 7, 2011 purchase ANY 3 or more lessons, games, or ebooks from CMToday and you will receive an INSTANT 20% Discount – no codes to enter, no forms to fill out, just a SWEET, SENSATIONAL SPECIAL!
SPECIAL Featured Easter Lesson
Are you looking for something Powerful and Special for Easter Sunday?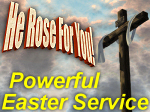 This lesson will instill into your children's hearts the awesome truth that Jesus indeed rose again for them! They will discover how the resurrection of Christ impacts their lives both for eternity and now!
This unforgettable lesson includes:
-Detailed Outline for Service
-An Incredibly Fun Crowdbreaker Game (Jellybean Surprise)
-Short Video Introduction of the cross
-1 Pantomime Bible Story
-1 Rebus Scripture Picture Verse – 1 Peter 3:21 (PowerPoint)
-Gospel Magic Trick: It is True! The Lord has Risen!
-Numerical Amazement Lesson: More Than Meets The Eye
-Gospel Magic Trick: The Book of Life
-Gospel Magic Trick: Broken & Restored Match (Broken For You)
-1 Sermon (enhanced with PowerPoint presentation)
-1 PowerPoint Review Game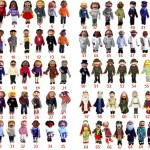 Do You Need Puppets?
Though the puppets are not in the new estore, they are still available!  Here is a picture of our most popular puppets.  Most are available in 29″ and 14″ sizes!  Drop us an email to CMToday@aol.com for us to send you more information.
Full Size Picture  is Online Here
Podcasts by Pastor Gary
Have you listened to these podcasts by Pastor Gary?  If so, take a moment and comment at GaryLinn.com
Are You Trying to Make Square Pegs Fit Into Round Holes?
Learn to Decidedly Listen
Are You Singing the Same Old Song?