NEW Eye-Popping, Jaw-Dropping Lesson for Easter
NEW Eye-Popping, Jaw-Dropping Lesson for Easter
What is "The Power of The Resurrection" lesson all about?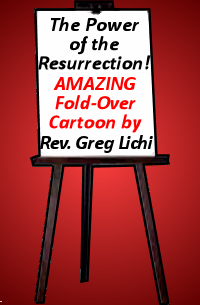 This jaw-dropping fold-over trick cartoon by Rev. Greg L. Lichi brings a powerful message that Easter is about your spirit, the eternal part within you, being resurrected right now to a new life!
Your group will be enthralled to watch as you draw two soldiers guarding Christ's tomb. Then, amazingly, as you fold the picture in half, it wondrously changes into the angel who said "He is not here. He is risen."
If you have never tried Trick Cartooning, you are missing out on a wonderful teaching method sure to captivate the attention of your group.
Now online in Children's Ministry Today's Marketplace!
PLUS –
NEW "Into All The World – FREE Kids' Missions" service! (Dividable into 3 Lessons)
Bring the Great Commission to life through an interactive and fun exploration of 15 marvelous scriptures!  Help your kids discover the answers to these questions.
Is Missions God's Command?
What is the Gospel or Good News?
Why Do People Need Missions?
Why Should I Get Involved in Missions?
How Should I Feel About Sharing the Gospel?
-Also includes-
5 Mission Points from the Apostle Paul
Missions and Me – Super Sword Search
"Into All The World" is included FREE with anything you purchase from CMT's Marketplace including the NEW Power of the Resurrection Cartoon!

Thank You for allowing us to share in your ministry!
Pastor Gary