Do You Believe In Easter? – Kids' Worship Service
Here is a NEW Kids' Easter Worship Service creatively designed to help children understand and believe the story of Easter and how their lives can be eternally changed when they believe in Christ!
Lesson Overview:
To Believe or Not Believe – That is the Question!
An Interactive All-Class Activity – highlights some of Jesus' miracles and shows that John wrote the gospel so we would believe.
Rebus Scripture Picture Verse
John 20:27– "Don't Be An Unbeliever, But A Believer" – shows us that Jesus wants us to believe in his death and resurrection for us.
Cereal Celebration
This object lesson explains that when we believe we receive real life.
Kitty Litter Surprise Relay
This relay teaches that we can believe that Jesus died and rose again even though we have not seen it.
Can You Make Believe It Is Real?
This object lesson answers the question – "What is real life?" Real life is the "real us" inside, our spirit, living forever with God.
BONUS – 11 Easter – Themed Games for Your Easter Activities
Note from Pastor Gary – Easter is a marvelous celebration of the greatest moment in the history of man; God's redemptive love was enacted through His Son, Jesus Christ. With the ever-increasing commercialization of Easter as a holiday of candy and new toys, it becomes even more imperative that we instill within the hearts and spirits of our children the true meaning of this miraculous holiday.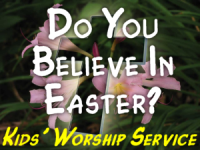 We must help our kids truly BELIEVE in Jesus Christ's sacrifice and His atoning work through the cross, tomb, and resurrection. The key purpose of this kids' worship lesson is to bring focus upon the realization that our salvation hinges upon the truth that we must believe. You will explore the Apostle John's comments from John 20:27-31 where he clearly explains why he told the story of Christ's ministry, death, resurrection, and ascension. John says that his purpose in writing his gospel is "so you may believe."