Mother's Day Memory Match-Up Kids' Lesson
NEW Mother's Day Memory Match-Up Kids' Lesson!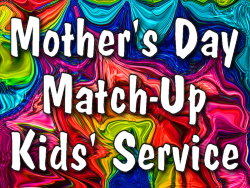 This Mother's Day lesson is:
EXCEPTIONALLY SIMPLE to prepare!
EXTREMELY IMPORTANT for every child to learn!
EXCITINGLY FUN for everyone involved!
Combine a mixture of the mental acuity from the classic 'Memory' game and the audience's energy from the 'Price is Right' game, shake well, and bake at 450 for 30 minutes and you get "Mother's Day Match-up!" (Okay, you do not really shake and bake, but this lesson is still lots of fun with lots of great teaching of how kids should treat their mothers!)
Print the included illustrations and you are ready-to-go! (For added effect during the Price Is Right spin-off, use the four suggested objects.)
http://childrensministry.org/estore/mothers-day-match-up-kids-service/
NOTE: If you have waited until the last minute and have only a little time to prepare, then you will appreciate how quickly you will have this lesson ready-to-go!
ALSO – Currently, you can get an extra 20% off and a FREE lesson from CMTM!  Be sure to see the note at the top of the CMTM site!