Attitude Object Lesson and CMT Partner Rewards Program
In today's CMT eNews, I will share with you an 'easy-to-do' lesson on ATTITUDE and the brand NEW CMT Partner Rewards Program!
ATTITUDE Object Lesson from Pastor Gary
I thoroughly enjoy this simple, yet SO POWERFUL lesson about the impact a person's attitude makes in any situation.  If you have never seen this done, you will be most certain to use it in the near future.  I have used it for ALL Ages!
Write the word ATTITUDE large enough for your group to see.
Explain that you will assign a number to each letter of the alphabet.  A=1, B=2, C=3,  … Z=26
Write each letter's corresponding number directly below the letter.  (i.e. Write 1 below A, 20 below T, etc…)
Add the numbers up and you discover they total 100.
Lesson Thoughts
Our attitudes make 100% of the difference in every situation.  Two people can be going through the same situation yet have completely different attitudes.  God knows how important your attitude is.  He gave some specific instructions of how to keep a good attitude.
Romans 12:2. God tells us, "Do not conform any longer to the pattern of this world, but be transformed by the renewing of your mind." The pattern of the world is negative (Just listen to the news.). Our minds, however, are renewed by God's Spirit and His Word.  In other words, our attitudes are changed when our minds are renewed.
Philippians 4:8 tells us how to renew our attitude. (NIV) 8Finally, brothers, whatever is true, whatever is noble, whatever is right, whatever is pure, whatever is lovely, whatever is admirable—if anything is excellent or praiseworthy—think about such things. AMP – think on and weigh and take account of these things [fix your minds on them].
Philippians 4:8 is the key of how to "take captive every thought,  making it obedient to Christ." (2 Cor. 10:5)
When we look closely at these verses from Romans 12, Philippians 4, and 2 Corinthians 10, we see that God is telling us to take action and be proactive in shaping our attitude. He says, "be transformed" "think on these things" and "take captive." These are all actions for us to carry out.
Our attitudes show others that we are trusting in God, no matter the circumstances.
Enjoy teaching this lesson!
-Pastor Gary
ANNOUNCING the NEW CMT Partner Rewards Program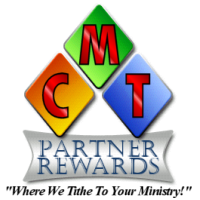 CMT's Partner Rewards Program is an opportunity for us to expand our missions giving by "tithing" to you, the pastor/ministry leader, and your ministry. There is never any cost to you; instead, this affiliate-style program enables you to receive 10% money back into your Paypal account for every person who comes from your ministry website or blog and uses our CMT Marketplace to purchase kids' ministry resources.
We are extremely excited, as this new program enables us to financially bless more ministry leaders world-wide, like yourself, while getting kids' life relevant, scripturally-based lesson materials into the hands of more ministry leaders.
Full Details are at: http://childrensministry.org/estore/cmt-partner-rewards/