What's Behind the Mask? – NEW Lesson from CMT!
Here is a PERFECT Salvation Magic Object Lesson for your parties and special events, especially this time of year with all of those costume characters running around.
You will use these drama masks to represent the masks we wear by saying and doing things that hide the person we truly are on the inside. (Your topics include: Truth, Fear, Anger, Pain, Self, Motive) Your volunteer freely selects a card.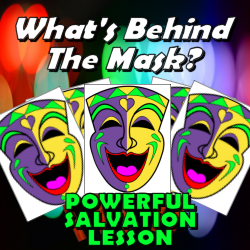 Your group will then discover how God sent His Son to earth to become our Savior and put an end to the harmful masks we wear as you reveal your volunteer's selected card is JESUS!
Included:
7 Printable Cards
Step-by-Step Instructions
Fully-Scripted Lesson
It is downloadable from the CMTM! http://childrensministry.org/estore/whats-behind-the-mask-salvation-lesson/
PS – Also, the FREE Lesson Giveaway changed today to the "Powerful Cut & Restored Rope!"
AWESOME RESPONSE!
Thank you for the wonderful response to the last two newsletters!  It is marvelous to hear how God used the two words of encouragement, "Your SURE Path to Victory" and "Incredible Word of Encouragement", to uplift so many of our readers!
If you missed these, or want to catch up on past newsletters, you can read them at: http://www.childrensministrytoday.com