Did You Hear That? -from Pastor Gary
Today's CMT eNews talks of "Hearing God Speak" and also reminds you of the newest Magic Object Lesson, "What's Behind the Mask?," and "Powerful Cut & Restored Rope" giveaway at CMTM!
So, do you hear God speak? When was the last time you heard God speak to you? Can you recognize God's voice? There were a few of my opening comments from the sermon yesterday morning. In the hurried and sometimes harried world we live, it becomes increasingly vital that we can clearly hear God speak to us. He is daily guiding us, encouraging us, and empowering us for life and ministry.
As you and I allow ourselves to be used in ministry for His kingdom, we must recognize that it is imperative that we hear God direct us in meeting the needs of His children.
First of all, I'd like to encourage you that you CAN hear God speak. It is more than a premise…it is a PROMISE! Consider Jesus' words in three of the gospels where He says, "Whoever has ears, let them hear." This is repeated in Revelation which says, "He who has ears, let him hear what the Spirit is saying to the churches." Then again, back in Isaiah, God tells us that we will hear His voice saying, "This is the way." Christ said that His sheep know and hear His voice.
Expect to hear God speak to you today! Listen and be blessed! In Matthew 13:16 Jesus said, "blessed are your eyes because they see, and your ears because they hear."
I pray you are blessed today as you hear the guiding voice of God for your life and ministry.
-Pastor Gary
What's Behind the Mask? Is a NEW Lesson from CMT!
Here is a PERFECT Salvation Magic Object Lesson for your parties and special events, especially this time of year with all of those costume characters running around.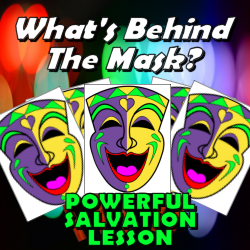 You will use these drama masks to represent the masks we wear by saying and doing things that hide the person we truly are on the inside. (Your topics include: Truth, Fear, Anger, Pain, Self, Motive) Your volunteer freely selects a card.
Your group will then discover how God sent His Son to earth to become our Savior and put an end to the harmful masks we wear as you reveal your volunteer's selected card is JESUS!
Included:
• 7 Printable Cards
• Step-by-Step Instructions
• Fully-Scripted Lesson
It is downloadable from the CMTM! http://childrensministry.org/estore/whats-behind-the-mask-salvation-lesson/
FREE to Download – POWERFUL Cut & Restored Rope
Reminder that when you purchase any of the Fall Festival or other resources at http://childrensministry.org/estore today you will also get the POWERFUL Cut & Restored Rope for Free!