How To Follow When You Are Out In Front
Can you follow the footsteps on a path never taken before? How to "follow" when you are out in front!
A good leader is one who keeps his or her group moving forward in growth, progress, and vision which place the leader out in front of the group as he or she forges the path ahead. At times, this appears to be a difficult task that places various stresses and heavy responsibilities on the leader. It reminds us of the saying, "to boldly go where no man has gone before." Pastor Gary shares an idea that will help a good leader continue moving forward through the "Intentional Leadership" podcast at:  http://garylinn.com/283/good-leaders-are-good-followers/
-Pastor Gary
NEW! – UR LUV'D Kids' Valentine Service
This is an exciting, fun-filled, interactive service which will propel your kids into a greater understanding and appreciation of the love God has put into their lives through friends, family, and God's free gift of salvation, including a lifelong, unforgettable love relationship with Himself!
The lesson creatively uses 4 different interactive games. Each game relates to a different Bible story which illustrates a type of love relationship God has given us to experience and enjoy in our lives—that of family members, friends, spouses, and, most importantly, God our Savior.
This is a wonderful Valentine's celebration service or outreach event! Included are printable Valentine cards which your kids can use to invite their friends to church for a special UR LUVD party/service!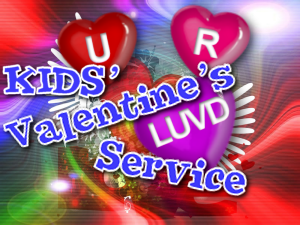 Downloadable at:  http://childrensministry.org/estore/valentines-day/