A Peep at New Life – NEW Easter Paper Fold Lesson
A Peep at New Life – NEW Easter Paper Fold Lesson
Remarkably Creative and Simple to Do!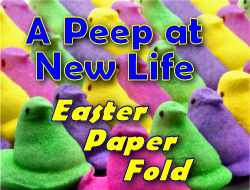 This paper fold lesson clearly presents the "New Life" we have through Jesus Christ in a way everyone can understand.
All eyes will be attentively watching as you cover the scriptural truths of Romans 6:23, Ephesians 5:2, and 2 Corinthians 5:15, 17 to lead your group into a NEW LIFE with Jesus Christ.
Fully illustrated with easy-to-follow instructions and a fully scripted lesson. All You need are 2 pieces of yellow paper and you are set to go!
http://childrensministry.org/estore/a-peep-at-new-life-easter-paper-fold-lesson/
Just a short note to let you know that Pastor Gary's Ministry Memo will be emailed separately later this week.
Reminder from Pastor Gary

Thank you for being a wonderful part of CMT's online ministry!  Your gracious and continued response to the podcasts, newsletters, and resources are a constant encouragement and strength for Alisa and myself!
I am writing this extremely brief email note today to remind you of the Creative and 'Time-Sensitive' Special available to you in Children's Ministry Today's Marketplace.
Put any 3 lessons, games, or ebooks into your cart today and you get an INSTANT 20% SAVINGS!  Use any combination of any 3 resources!  The site does the work for you – no codes to type in!
Alisa and I pray this 20% OFF savings will be a blessing to you and your ministry!
Thanks again for allowing us to be a part of your ministry!
Pastor Gary